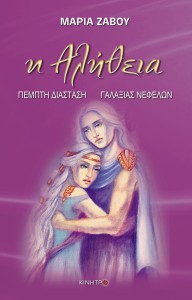 A story of love, betrayal and adventure that leads to "immortality". A book-key, reminder of the primeval knowledge of the Soul. A story of ours filled with vibrations and echo-pulses that lead our mental-spiritual essence to ascent.
It is a story based on true personal experiences of the writer through connection to the higher self.
Experiences that finally led her to work as a guide in transcendental journeys to the 5th dimension and to found her metaphysical school by the name Gate of Angels.
It mainly refers to spiritual information she has received through the years of her communication with enlightened masters from higher dimensions and which concern mainly the 5th dimension which was the residence of the souls in pairs before their fall in the 3rd dimension of the Earth.
For the first time in the form of a novel the successful visionary painter and writer tells her story of fall, separation from our other half, and the course to Earth, until our other half called Higher Self approaches us in order to guide us to the celestial homeland of the 5th dimension.
Imaginative descriptions of the planets on the Nephelon galaxy of the 5th dimension, conversations with higher entities and divine courses of human DNA mutations that will facilitate our access to the 5th dimension are included in a story of love, betrayal and awakening until the final catharsis.